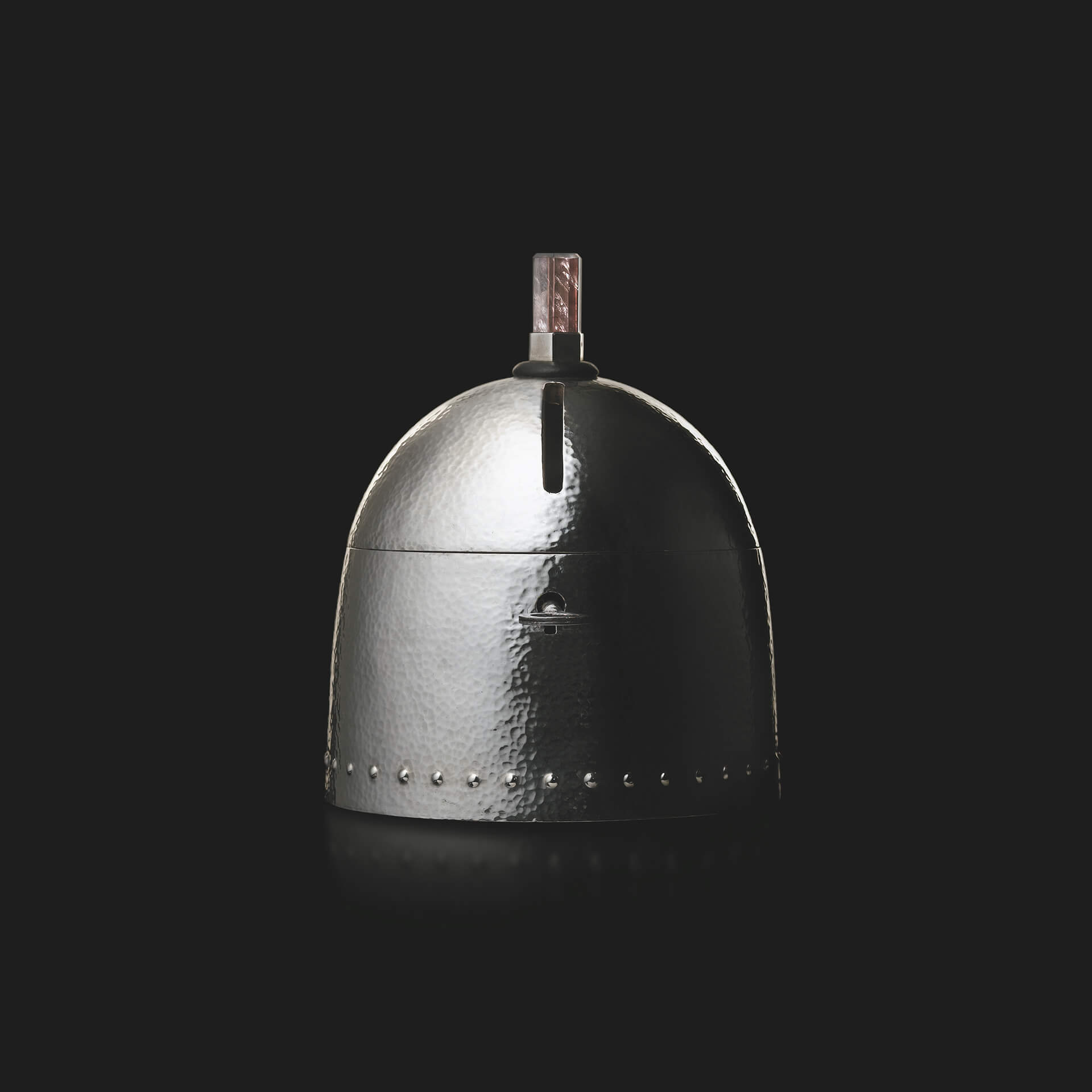 Josef Hoffmann
Piggy bank for the Palais Stoclet
Material
Silver , amethyst and ebony
Similar Pieces
– One teapot, same design and provenance, in the collection of the Minneapolis Institute of Arts (accession n° 98.276.207) 
-one tea set, similar design, in the collection of the Metropolitan Museum (accession n° 2000.278.1-9) 
-one tea set, same design and provenance, in a private collection, New York
Glanzstücke – Emilie Flöge Und Der Schmuck Der Wiener Werkstätte, Museum And Schmuck Museum Pforzheim, Vienna And Pforzheim, 2008 – 2009
Wiener Werkstätte Archives: Inv. N° Ki 12052-20
Deutsche Kunst Und Dekoration, Vol. XV, 1904-1905, P. 23
Neuwirth, W., Wiener Werkstätte – Avantgarde, Art Deco, Industrial Design, MAK, Vienna, 1986, P. 35-36
Der Preis Der Schönheit – 100 Jahre Wiener Werkstätte, MAK, Vienna, 2003, P. 119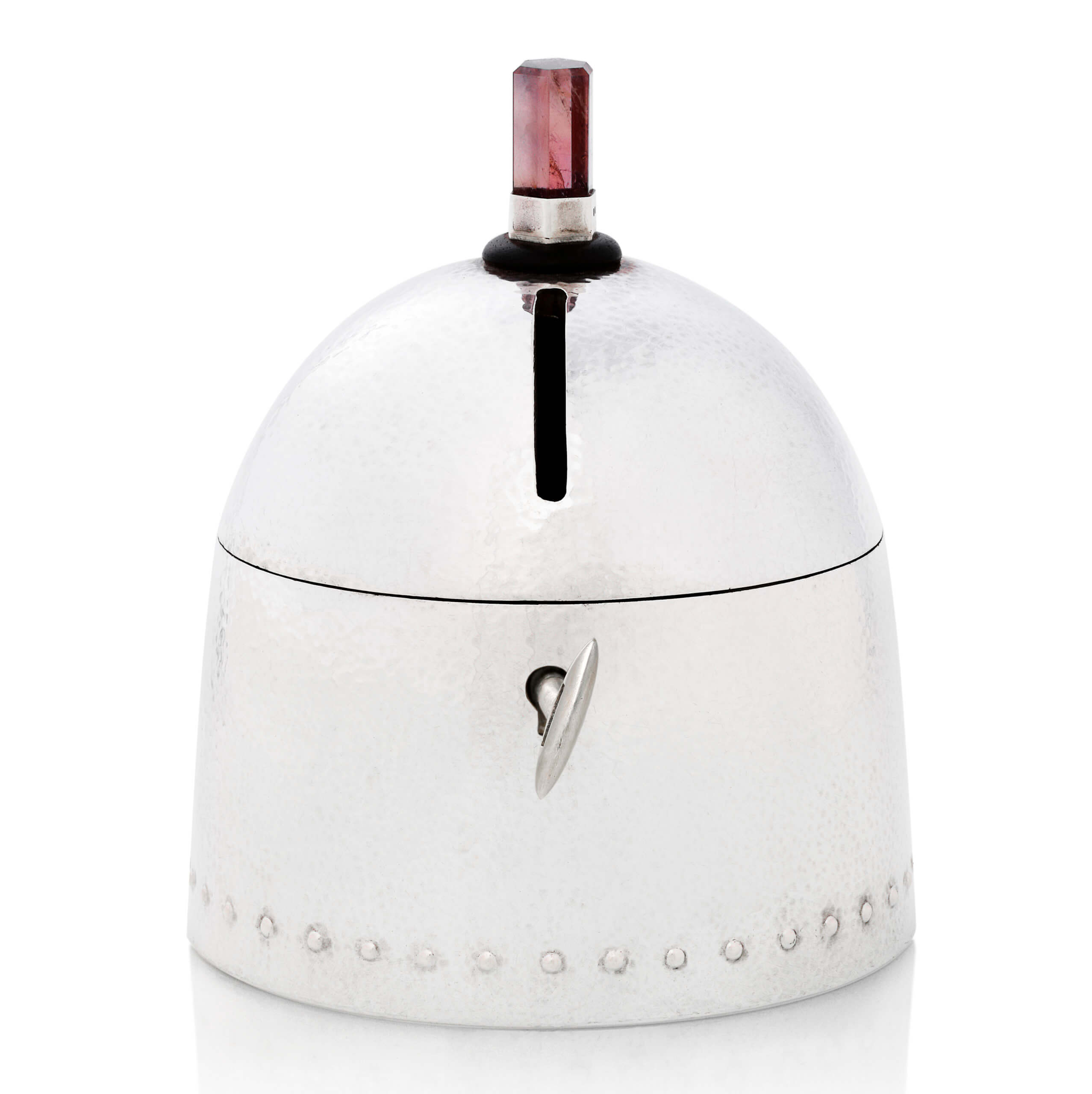 The money box was made in 1905 at the Wiener Werkstätte by re-working the sugar bowl of its tea service (model no. S 236), and was sold for 100 crowns. The tea service, consisting of teapot, sugar bowl, milk jug and sugar tongs, had been made as a one-off set in 1904 already and was purchased by Adolphe Stoclet.
Adolphe Stoclet came from a rich family of bankers in Brussels, but professional reasons involving his father's business caused him and his young family to spend the years 1903 and 1904 in Vienna, where his son Jacques was born. With the founding of the secession in 1897 and the Wiener Werkstätte in 1903, Vienna had established itself during this period as one of the major and most innovative art centres in europe. Stoclet was an art connoisseur and collector and had got to know Josef Hoffmann during a walk on the Hohe Warte. Hoffmann had built three villas there as of 1900, including the semi-detached house for the painters and secession founders Koloman Moser and carl moll. They embodied the highest pinnacle of progressive architecture that Vienna could offer at the time. Since Adolphe Stoclet planned to stay for an extensive period in Vienna, he commissioned Hoffmann to design a house for him, also on the Hohe Warte, to be erected in the location of the present-day villa Ast. However, the sudden death of his father forced Stoclet to return to Brussels in 1904 already, and the project was shelved at the planning stage. In the end, these initial contacts were to produce one of the most important and comprehensive commissions for the Wiener Werkstätte; the building between 1907 and 1911 of the palais Stoclet on avenue de Tervueren in Brussels.
The tea service s236 with the sugar bowl that engendered the money box is one of the few articles securely documenting Stoclet's first contact with the Wiener Werkstätte. The money box is an excellent example of the radically reduced stereometric design and perfect execution characterizing the early works of the Wiener Werkstätte. The value of the object is not born of rich ornamental inventiveness or costliness of material, but proportion, choice of material and perfect handicraft.
CWD